OpenSUSE 11.2 x86 & x86_64 DVD Media will be made available in Windhoek, Namibia within 24 Hours from Official release date and time. Impulse Computer Services will be charging a fee of N$150 per DVD which includes the DVD and VAT.

Any money will be used to finance the server space and allow for time spend on reviews etc. related to OpenSUSE Linux in Namibia. Obviously Linux is a subject we do feel passionate about and are willing to grant some of ou free time and free resources (Programming skills etc.)
NamibHub will to post a list of names of people who have purchased the DVD from us and make officially available how the funds have been allocated. Money paid should not be seen as a donation but rather as a commitment to support and promote the cause of OpenSource Projects such as Linux. The promoted packages are more than just operating systems as they contain other productivity and educational tools.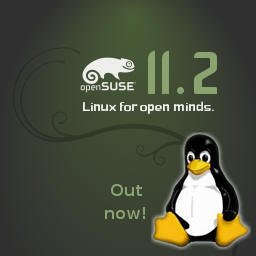 openSUSE was released on 12 November 2009.
While the openSUSE 11.2 project is considered a great leap forward, it did not quite reach my expectations. As end-user, I did not fully part take in the development and therefore cannot complain about any problems not having been resolved. I seriously wanted to review this release but after suffering some problems with my upgrades that required a lot of Googling I thought that penSUSE 11.3, due in July 2010 would be a much better choice for doing my 1st review, especially since it includes a newer version of KDE which for me personally makes or breaks the Desktop experience.
In my opinion openSUSE 11.2 is good but it could have been better. It is my perception that the openSUSE developer community are doing a good job and I personally love openSUSE more than any other distrbution(s) out their. I consider the product a great Linux for the novice and professional alike.
Under the Hood
openSUSE 11.2 comes with the latest version 2.6.31 of the Linux kernel, the beating heart of every openSUSE system. The file system of openSUSE was switched to the new Ext4 file system.

openSUSE 11.2 also includes new and updated drivers for your hardware, meaning more and newer devices will work with it. In addition, special attention has been paid to the netbook market, and new drivers will enable openSUSE to run better on a wider range of netbooks.

NB: With the inclusion of KDE 4.4.x, OpenSUSE 11.3 will be better. It is possible to upgrade to KDE 4.4 but the problem remains that this keeps causing a lot of breakages when running updates and is therefore not considered ready for the average Joe or Jane.
On the Desktop
openSUSE 11.2's desktop environments will continue to evolve. In addition to the work of the openSUSE Project in the desktop, openSUSE 11.2 will include the latest versions of the two desktop environments, KDE 4.3 and GNOME 2.28.

KDE users will enjoy the new Firefox KDE integration, OpenOffice.org KDE4 integration, consistent KDE artwork and all standard applications being ported to KDE4 including KNetworkManager, Amarok, Digikam, k3b, Konversation and more.

GNOME users will notice a fresh new look to openSUSE 11.2 in the windows and user interface, called Sonar.

No matter what desktop you choose, openSUSE's web browser and office suite will gain great new features. Mozilla Firefox 3.5 gives users more control over their browsing experience, including a Ctrl-Tab switch between tabs and a private browsing mode. OpenOffice.org 3.1 delivers even more new improvements to the office suite, such as the ability to carry out a structured conversation through the word processor's commenting functions, and major improvements to the graphics drawing application.
Social Network Support
Support for social networks like Facebook and Twitter has been added to a number of applications and new applications have been added to the desktop. These applications allow a better user experience than the default webbased interfaces.
choqok: New KDE twitter and identi.ca client
gwibber: New GNOME client with support for Twitter, identi.ca, Facebook etc.
kopete: The KDE client now has additional support for Facebook IM protocol
social plasmoids: KDE 4.3 comes with plasmoids for Twitter/identi.ca and openDesktop
Filesystems and Partitioning
The ext4 filesystem is the new default filesystem for new installations.
Btrfs, the next generation Linux filesystem, has now a stable disk layout and can be configured in the YaST partitioner.
The YaST partitioner has seen many user interface improvements (Add: screenshot of storage graph)
It is now possible to encrypt the complete hard disk.
YaST Improvements
openSUSE 11.2 will include a YaST Web interface for easier remote administration of your openSUSE computer as technology preview. OpenSUSE will also, for the first time, officially support live updates to encourage more people to use openSUSE's Factory and report issues.
But the most important change is of course the introduction of Yastie as YaST mascot!
Updates and Downloads
Media
openSUSE 11.2 includes two major updates to how openSUSE is being distributed - first, Hybrid ISOs will allow to boot the openSUSE ISO images from USB. OpenSUSE is also retooling the Live-CDs to include more languages, complete local printing (no more having to download software to print!) and the imaging editor The GIMP.

As always, openSUSE 11.2 is set to be quicker, easier, stronger, and more colorful (as long as that color is green).

Stay tuned! OpenSUSE is still about a month away from the release. Please see openSUSE News for the latest information about everything openSUSE 11.2. Don't forget to follow openSUSE on Twitter for the latest updates as they happen!

Information was derived from http://en.opensuse.org/OpenSUSE_11.2#What.27s_new_in_openSUSE_11.2.3F

Review
I promissed I would review openSUSE 11.2. Well, this never happened due to some mayor problem experienced during my personal upgrades. It is my opinion that the openSUSE 11.2 release could have been much better. To remedy the situation, I will double my efforts with the openSUSE 11.3 release.


Screen Shots below are just some examples of hat can achieved in OpenSUSE 11.2. They were taken from one of the Release Candidates. Color schemes have been limited until the final release and my desktop even looks better. I was to keep the best for last (i.e. I wanted to make some screenshots of the newly installed openSUSE when it came out last November). I have not optimized quality as the point of these images was to provide an idea of what is possible and how far KDE4.3.5 had come. KDE is a continues work in progress and KDE 4.4.x is a stunning success. It should also be noted that every Linux Distribution comes with lots a value packed opensource software. It is the way that these components are stitched together that truly makes each Linux Distribution unique. The fact that Linux is modular, leaves Linux users with an endless choice.

Physically I personally believe Linux will outperform any Windows System. The only real thing Microsoft has going for themselves is their vast developer base. With Bill Gates' and Microsoft cunning marketing strategies, they have done a very good job i selling their products to the massesIt also only was on Linux to Windows 2008 Server that I managed to see true Gigabit performance of between 100-110 Megabyte per Second File transfers via SMB using Samba. I never thought I'd see this but Linux never ceases to amaze and every new release reminds me of Christmas when I was a child. Their is always something to look out to / for.